How do I use the batch edit option?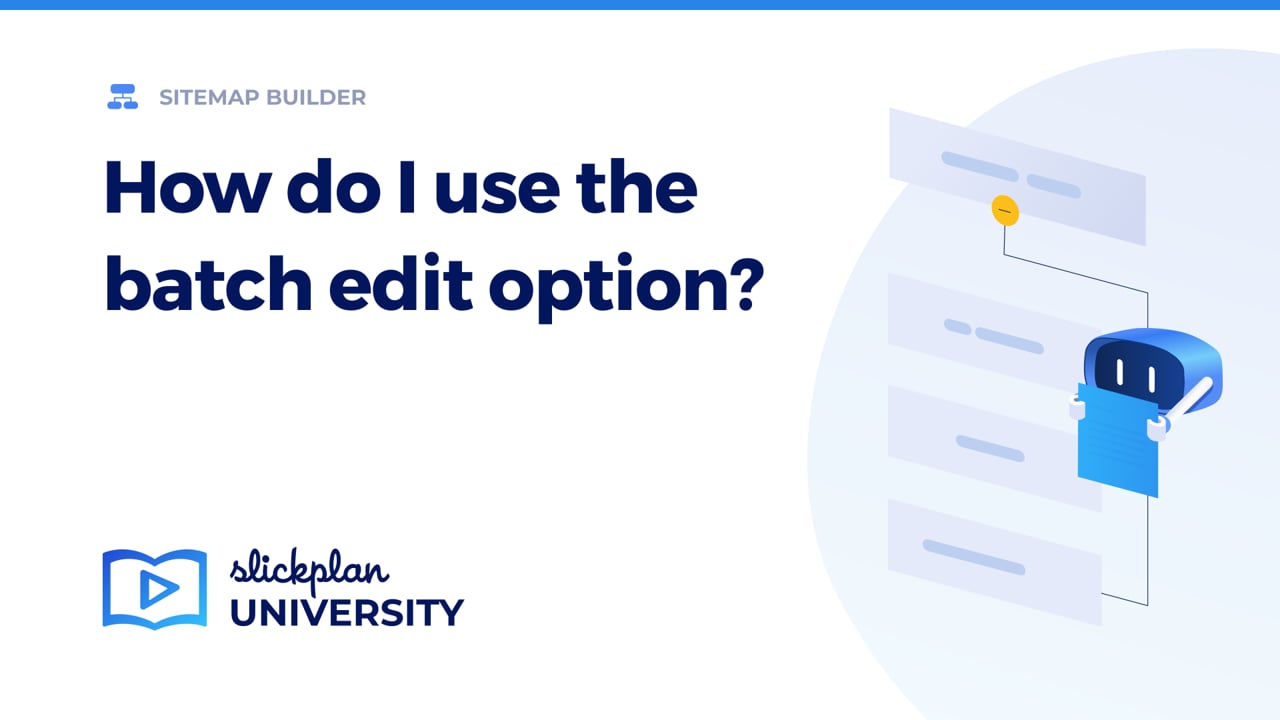 ---
Batch editing allows you to configure multiple page edit options at once. This saves time and is also a quick way of customizing your sitemap pages. 
Please note that batch editing will overwrite the current page state.
To batch edit selected page(s), follow these steps:
Open a sitemap and select pages by clicking on the checkboxes. You can select multiple pages at once before moving on to customization.

The batch editing bar will appear at the bottom of the page.

From the Fill swatch choose a new color to edit your selected sitemap page color.

From the Text swatch choose a new color to edit your selected page text color. All of the above changes will be immediately reflected on the selected page.

To add page type, link & note to the selected pages:

Click Type to add a new page type. You can choose from 12 default page types, or from your own custom page types (How can I add a custom page type?). The new page type icon will immediately be displayed on the right of the sitemap cell (selected page).
Click Link to add a link to your sitemap pages.
Click Notes to enter notes about your pages. When completed click Save.
Click status to mark selected pages with its current status (draft, complete)

When the edits are done, save the changes by clicking Done on the right.
Delete Multiple Pages
To delete selected page(s):
Select the sitemap pages you wish to delete.
Click Delete on the batch edit bar.
Moving multiple pages:
The batch edit option allows you to move/clone selected pages. Select the pages from your sitemap, click on the Move option on the bottom bar.
From the modal window choose the page under which you want to move the selected cells. You can use search bar to locate the page you are looking for. 
After you choose where to move the cells, you need to decide if you want the pages to be removed from one place and put to another. The second option is duplicating pages to a new location while they remain in their previous place as well.